Between 8-10 Months
I have found my fingers
"I have got to grips with chunky finger foods and I would now like to try some blended runny food with dips."
Offering your baby soft food as a dip, along with something chunky they can use as a dipper is a great way to mastering skills needed for when they begin to use cutlery.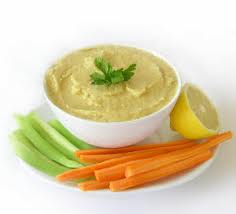 Foods that make good dippers:
Breadsticks

Pitta bread

Toast fingers

Sticks vegetable

Wedges of fruit
Guacamole
2 ripe skinned tomatoes
1 ripe avacade halfed
1 juice of lemon
1/2 finely chopped clove of garlic
2 tbs soured cream
1 tbs chopped coriander
Chop tomatoes and mash avacado. Mix together with lemon juice, garlic and sour cream. Sprinkle with coriander and serve.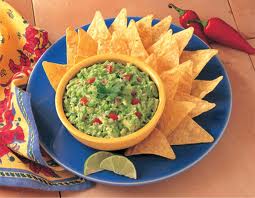 Dips and Dippers.....
Hummus:
400g chickpeas
1-2 cloves garlic crushed
1 juice of lemon
2tbsp tahini
2 tbsp olive oil
pinch of paprika
Rinse, drain and mash the chickpeas. Add garlic, lemon juice, tahini (personal choice how much) and olive oil and mix thoroughly.
Transfer to a serving dish and sprinkle with paprika. Chill in the oven before serving.
Tip: Hummas keeps well covered in fridge for upto 3 days.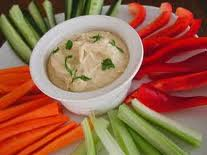 Yougart and Cucumber Dip
1/2 medium cucumber, peeled and deseeded
200g natural yoghurt
1 small red onion finely chopped
1 tbsp fresh lemon or lime juice
1-2 tbsp fresh chopped coriandar
freshly ground pepper
Grate the cucumber into a bowl and add the yoghurt, onion, lemon (or lime) juice and coriandar. Stir well and add black pepper to taste. Chill before serving.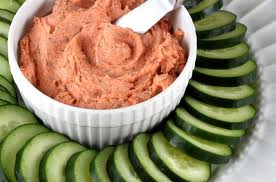 Salmon Spread
185g tin salmon, drain thoroughly
200g ricotta cheese
juice of 1/2 lemon
2 tbsp natural yoghurt
fresh ground black pepper
Simply put all the ingredients into a blender until smooth.
Tip: instead of salmon you can use tuna, mackerel or sardines.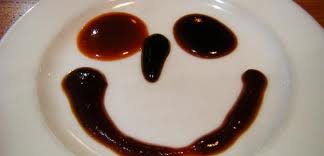 Kids love to dip......so let them :-)
Bean Spread
200g red kidney beans
1 small onion chopped
1 medium carrot cooked
1-2 tsp dried mixed herbs
2 tsp cidar vinegar
1-2 tsp oil
Put all the ingredients into a blender and mix until a smooth paste. Chill before serving